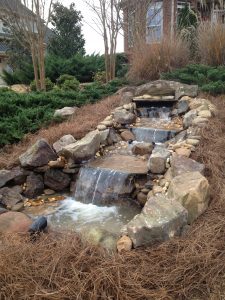 Peaceful, refreshing, serene…the sound of water has the power to destress, bring relaxation and calm.
Enjoy both the calming sounds and the beautiful sight of a water feature that fits your unique setting. Water features are a hot trend in today's landscaping. They are environmentally friendly and completely customized to be installed anywhere. Relax alongside a water garden and experience a tranquility that transcends today's stressful world.
Ponds, waterfalls or fountains all add a rich dimension to your landscape, whether as the focal point the rest of the yard is designed around, or a beautiful way to add the soothing sounds of moving water to your outdoor living environment.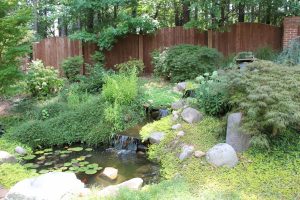 Few things can add to a backyard's ambiance like a water feature. From a simple pond to an elaborate waterfall, water features offer beauty, tranquility, and even a boost to wildlife and the environment. The frogs will love you for building them a water hole to play in and you will love the entertainment you get from watching them!
You can have one of our experienced team professionals design a custom pond to meet your needs. Using top-grade stone and equipment, we design and install your garden pond.